I'll let you in on a secret….
The single biggest determining factor in me clearing my skin was that I decided I was 100% going to and I didn't give up.
That was it.
Okay, I know … sounds boring and you were hoping I was going to reveal an easy magic pill you can take.
I give you a ton of actionable strategy on how to clear your skin already, in my blogs, emails, and programs.
But let's get real – strategy really means nothing if you don't have the mindset to back it up.
This decision and determination … this is what made me feel beautiful again. It's what ended all the frustration. It's what transformed my entire life, including my skin, into something amazing – from the inside out.
I learned everything I could and didn't stop, even though I had plenty of setbacks, frustrating moments, and times I wanted to cry.
And you know what? I was rewarded beyond my imagination.
Not only with clear skin, but a sense of peace with myself. A love for myself that I didn't have before. A feeling like I could do and accomplish anything, since I had accomplished this. Confidence. Empowerment.
So much.
But if I hadn't had made that firm decision, then I would have given up and I'd be right back where I started.
You know, I loved the idea of clearing my skin naturally & holistically because it meant that I was in charge. It meant that I had power.
I didn't have to suffer at the hands of the doctor who told me the only things they could offer were birth control, antibiotics, Accutane –  things with side effects that I was simply not okay with.
I know you're familiar with that feeling of hating your skin and hating the acne SO much, yet feeling like you have nowhere to turn… like you may have to wait forever for someone to come along, wave their hand, and make it all end.
Super depressing.
But it doesn't have to be like that. You can change your skin RIGHT now. It's totally up to you. You're in control.
Some people don't like the idea that you create your own life.
They'd prefer to take a fatalistic viewpoint – that life is pre-determined… it happens and you can't help it. You are at its mercy.
Sure, go with that if you want, but I bet it feels pretty darn hopeless and suffocating.
People don't like it because creating your own life means you have to take responsibility for all the shit that's gone wrong (not BLAME… don't blame yourself or anyone else. I just mean you take responsibility for how you react to something, how you learn from it, and how you move forward from it)…..
And that ain't easy.
But the upside is that it means that you also have the power to change and make it amazing.
You don't have to wait for anyone else. You aren't at anyone's mercy. You have choices. You have options. And you can bring it all to life just because you want to.
Just because you decided to. You chose to believe it was possible, and then you acted on it. You made it happen.
It's pretty fuckin' cool. When you realize you can do and have anything you want. Including the clear skin that you desperately, desperately want so that you can face the world again and really let yourself shine.
You can have that too….. whatever you want. You're in charge.
I hope you've heard by now about my Naturally Clear Skin Bootcamp program.
This is my signature 6 week program which lays down exactly how to clear your skin (based on my years of research and experience) and tells you exactly what to do each week to reach your goals.
It also gives you personalized support in a busy forum full of women who completely get the whole acne thing (ie. how much it SUCKS!!)
By the end of it, you're going to have the clear skin you want – or be well on your way to it – and feel a sense of personal power and transformation that you can't get anywhere else.
Let me help you take charge of your life and take your skin back.
You don't need to suffer any longer – all you need to do is make the decision, and I'm here for you. I can't do the work for you (you know, that whole taking responsibility thing), but I can guide you and make this journey a heck of a lot easier.
NOW is the time to invest in your future happiness (no one else is going to make it happen if you don't).
No more shame and hiding, ok? There's really no need. Let's do this.
Lots of love,
Tracy xo

———————————————–
Naturally Clear Skin Bootcamp Success Stories
"People who hadn't seen me for a few weeks said "wow your skin looks clear, what are you doing different?"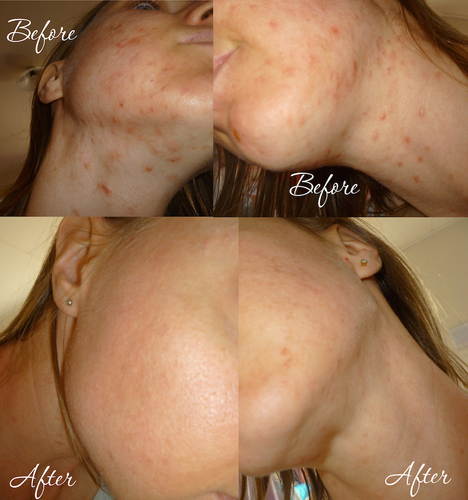 Before the Naturally Clear Skin Bootcamp, I was definitely feeling low in confidence and struggling to not pick at my skin. I was feeling like the odd one out and wanting my skin to look nice and clear like those around me.
I always believed the answer was not through strong medicine or chemicals but was not sure where else to turn for help. So when I saw your program I knew this was the answer I needed.
I started about a month before Christmas but what I found most difficult was leaving my skin alone. But I persevered and people who hadn't seen me for a few weeks said "wow your skin looks clear, what are you doing different?"
Then I would tell them all about your wonderful program and the holistic approach you take. It might take me a year to implement/try everything and clear my skin completely but I'm on the right path for sure. My mood and energy have also improved which I love, and I'm getting addicted to eating vegetables!
Already I have recommended this program to others and anyone who asks what I'm doing. Thank-you for your holistic approach, I'm in full support of it. And thank-you for helping me to not only clear my skin but also feel more involved in life and happy
– Selena D, New Zealand
Ready to join us in the Bootcamp and finally get the clear skin you've been desperate for? Don't wait any longer! Click here to learn more… or click here to read more Bootcamp reviews!